Trusted place to sell your car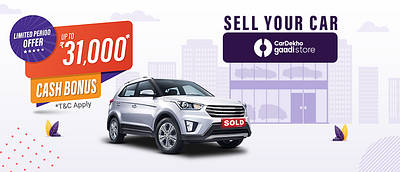 Why sell at CarDekho Gaadi Store?
Here are a couple of really good reasons for why you should choose CarDekho Gaadi Store when you decide to sell your car:
You get the best price

1,600+ verified channel partners across India help us to get the best price for you

Instant money transfer

As soon as documentation is done, the amount is transfered to your account

Free RC transfer

We take care of the RC transfer for you, and that too for free

Loan Closure Assistance

Our executive will take you through the process, get all the required document signed and NOC issued.
How CarDekho Gaadi Store Works-
Sell your car in 70 minutes! Here's what our car selling process looks like
01

Book an appointment for FREE car inspection

02

Get the best resale price for your car

03

Get instant payment after document verification
Happy Customers
Happy You = Happy Us! Here's what our customers have to say about their experience of selling their car at a CarDekho Gaadi Store
Good service, I just closed a great deal on my old car value, it was fast & best value for old cars.

Pushpendra - Hyundai Santro Xing

Great Experience & Customer friendly place. It is so easy to sell the vehicle at Gaadi.

Ayush - Hyundai Grand i10

Really good customer service and good price for my car.

Virender - Hyundai i10

Everything was good and smooth, very helpful to sell used cars.

Atul - Maruti Alto

Excellent Service, Great job. Happy with the experience.

Kamal - Maruti Alto K10

All people were very professional, very quick process and least documentation. Got good price.

Deepak - Chevrolet Spark
Our Partners and Investors
Always inspiring us to think bigger and get better
Latest Articles By CarDekho Gaadi Store
In the case of a car loan, this process is a little complex. Aside from the bank you also have to file an application at the Regional Transport Office. The process takes a bit of effort and to make it simpler for you, we've made a step by step guide to help you remove the hypothecation with ease.

It is essential for you as a seller to have all the necessary documents that are required to sell a car. This saves you from future issues and more importantly when you apply for the transfer the ownership, the complete documentation will help you sail through the process effortless.

Any good car inspection should include 5 things starting from checking the exterior, interior, to driving experience and more. Read on to ensure that you get a great deal while buying a used car.

There are simple and easy tips and tricks that'll get you amazing deals on buying or selling a car starting from keeping an eye on the loyalty bonus, sales, and discounts while buying to getting all documents & estimated resale value while selling it. Read on and become an expert!

It is important to notice that overheating is one of the major causes of engines' failures especially in diesel vehicles. We list down some of warning signals that help you detect early the issues pertaining to the radiator and take corrective actions.

Without the proper working of the suspension, one won't be able to handle the car properly especially during negotiating a turn or applying the brake. One essential part of the care is to sense early warning signals and to help you out on that, we list down some of the important indicators for you.

Irrespective of whether you are in the market to buy, sell or exchange your car, there are things like documentation history, research & analysis, finance options and more before taking the final call. Read on if you're in the market for anything related to cars.

While the selection of model, colour, and variant might not put you in a dilemma, the fuel choice might drag your mind into confusion. The decision has not only implications in terms of the retail price but also going to influence your daily running cost in terms of fueling/refueling of the car.

The Indian automobile industry is all set to make a transition from BS4 to stringent BS6 emission norms from April 1, 2020. Bharat Stage (BS) emission norms are based on the European Emission Norms (Euro Norms) and have been adopted to control vehicular emissions in the country.

Your car talks to you in different ways which includes signs like fumes, leakage, or sounds. However, there are other problems which don't give any indication in advance. Read on to know the difference between the two and the preventive measures to keep your car in great shape.
Have Questions?
If you have any queries about our used car selling process or want to know more about CarDekho Gaadi Store, call us on 1800-12345-2323
Meanwhile, you can get answers to the frequently asked questions here
Which areas do you cover currently?
Currently we are operational in Delhi-NCR, Bangalore, Jaipur, Udaipur, Jodhpur, Pune, Lucknow, Karnal, Mumbai, Ahmedabad and Hyderabad. We are in the expansion phase right now so you'll be seeing more stores soon.
What all documents I need to carry when visiting the store?
You need to carry all car related documents like RC, Insurance, PUC, PAN card, cancelled cheque, and government-issued address proof.
I have a fleet of cars. Can I get a better deal? What all can CarDekho Gaadi offer me?
At CarDekho Gaadi Store, each car is inspected, evaluated, and sold individually. However, there is a possibility of getting better deals. For this, you can get in touch with our team on our toll-free number 1800-12345-2323.
Do you provide car inspection at home?
Yes, we do offer home inspection in Delhi NCR, Bengaluru, and Mumbai as of now. You'll have to pay a nominal amount of Rs. 199/car.
Can you notify me when you have a good offer?
Do you buy commercial cars?
Sorry, but we don't deal in commercial cars as of now.