Gaadi.com exclusive: Hero's upcoming full faired bike caught on camera
Wednesday, July 17, 2013, 13:07
Indian automotive scenario, especially the two-wheeler segment is going through an unexpected boom now. Every other manufacturer is working to push high capacity motorcycles to cater the rising demands of the Indian customers. Due to the market demands, Hero MotoCorp entered into partnership with the Eric Buell Racing (EBR) in February last year and eventually exchanged money for the ownership of 49.2% of the stakes in the EBR. Hero has a knack of partnership and before buying stakes in Eric Buell Racing, the Indian two-wheeler giant had three-decade long venture with Honda.
Now you must be wondering what is coming out of Hero-EBR partnership that formed last year. Well, apart from the Hero's entry to the world of Superbikes Championship, Hero-EBR has been developing something big for the Indian market too. We caught upcoming Hero bike, which in all probability is powered by 250cc engine in an exclusive video and pictures!
The fully faired bike shrouded in blue covers caught near the Dharuhera plant of Hero MotoCorp and it looks interesting if not promising. The front shares some silhouette with the Hero ZMR. From the side the bike looks big and heavy with fairing covering the engine, we could not make out the cylinders but from the sound and current trend in the Indian market, it will be a single cylinder Fuel Injected, liquid cooled engine. There are split seats, which is an upgrade from the ZMR.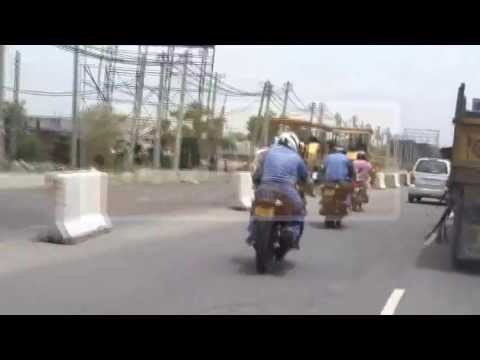 The tyres look skinny and do not match with the profile of the heavy bike on display. There are disc brakes in front and rear. The exhaust does not look very attractive either and in all, the bike looks like with a new engine, new fairing with old parts from the previous Hero bikes.
The two riders wearing Hero shirts were doing good speeds at the time of capture and asked us to stop several times during the brief footage that we managed to get. Hero is the number one two-wheeler maker in India and the company is ruling the commuter segment like no other. Now that the market is shifting to the higher segments, Hero is making an effort to join the league of high displacement bikes. Currently, the Hero ZMR is the flagship model, which is loosely based on the more popular Hero Karizma ZMA-R. Hero has been struggling to prove itself in the premium motorcycle category and the new launch might just change everything. This is a Gaadi.com exclusive footage and we received the same from our fan and follower Manoj Kandpal.
Photo/Video credit: Manoj Kandpal: Facebook.com/Manuman.3121

About the Author